Your wedding dress is one of the most important aspects of your big day. It should represent you as a bride and make you feel confident and beautiful. But what if you don't want to go the traditional route? Check out these alternative wedding dress styles if you're looking for something a little more bold and eclectic. From colourful gowns to daring cuts, there's sure to be a style that suits your unique personality. So ditch the white dress and explore the endless possibilities of nontraditional wedding attire!
Revolutionizing the traditional wedding dress: the best alternatives to the classic white gown
On your wedding day, you should feel like the best version of yourself- and that includes your outfit! So if a classic white gown doesn't feel like "you", don't force it. There are so many other amazing options for bridalwear that will make you feel confident and beautiful on your big day.
Here are some of our favorite alternatives to the classic white wedding dress:
A Bold Color
If you're not afraid to stand out, why not go for a bolder color than traditional white? A colorful wedding dress is a great way to add personality to your look and make a statement. Plus, it'll be sure to stand out in all your wedding photos!
An Eye-Catching Pattern
If a solid color dress isn't your style, go for an eye-catching pattern instead. Floral prints, geometric shapes, and abstract designs are all great options for patterned wedding dresses. Just make sure the overall silhouette of the dress is still flattering and comfortable for you to wear all day.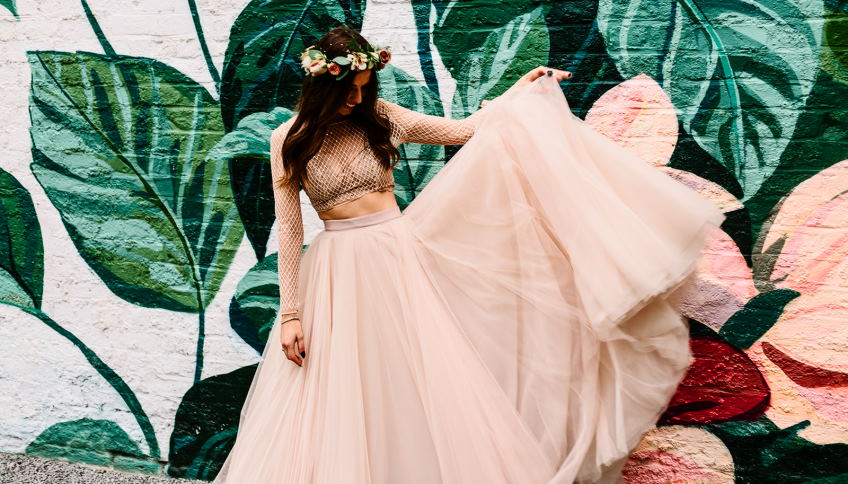 A Vintage-Inspired Dress
For a truly unique look, consider a vintage-inspired wedding dress. There are so many beautiful antique-style gowns available nowadays that it's easy to find one that fits both your aesthetic and budget. And if you're set on wearing white, you can always look for a vintage dress with intricate lace detailing or other embellishments.
A Short Dress
Not everyone wants to wear a long, floor-length gown on their wedding day. If you prefer something a little shorter and more playful, tons of gorgeous short wedding dress options are available. From tea-length dresses to minis, there's sure to be a style that suits you perfectly.
A Separate Top and Bottom
Why not have the best of both worlds if you can't decide between a dress or a separate top and bottom? Plenty of bridal separates available will let you mix and match different pieces to create your unique look. Plus, this is a great option if you want to be able to reuse some of the pieces for other occasions after the wedding.
No matter what you choose to wear on your big day, the most important thing is that you feel like yourself and are comfortable in your own skin.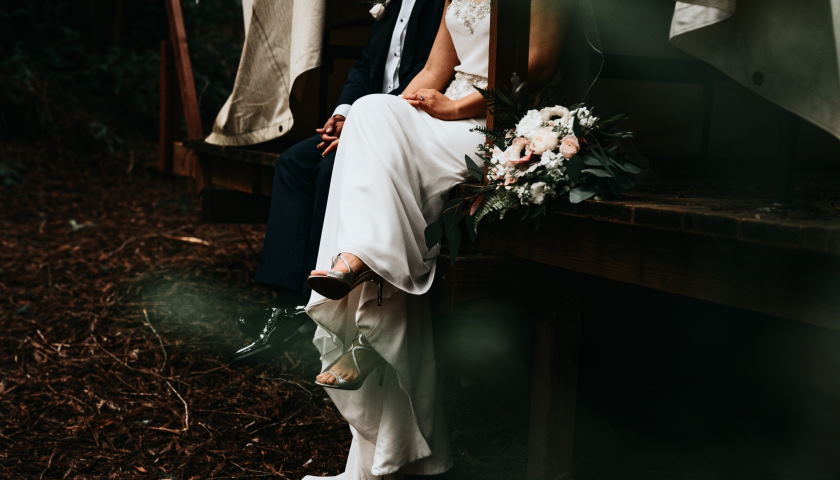 From ballgowns to mermaid tails: the most unconventional wedding dress ideas
So you've decided to forgo the traditional white dress and go for something a little more unique on your big day. Whether you're looking for something eye-catching and dramatic or want to express your personality, there are plenty of options for the nontraditional bride. Here are a few of our favorite unconventional wedding dress ideas.
For the modern bride who wants a little different, why not try a sleek and simple jumpsuit? Jumpsuits are not only stylish and on-trend, but they're also surprisingly comfortable – perfect for dancing the night away! If you're worried about feeling too exposed, look for a style with long sleeves or opt for a lace overlay.
If you're set on wearing a dress but still want something unique, try a ballgown with an unexpected twist. We love the idea of a ballgown with a billowing skirt and off-the-shoulder sleeves – perfect for showing off your gorgeous shoulders on your big day! Or, go for a more fitted gown with an interesting neckline or cutouts.
We say go for it for the bride who wants to make a dramatic statement! A mermaid or trumpet-style gown will turn heads, and if you're looking to show off your curves, there are plenty of sexy styles to choose from. Just be sure to pick a comfortable dress to dance in – no one wants to be tugging at their dress all night long!
Whatever your style, there's sure to be an unconventional wedding dress perfect for you. So don't be afraid to think outside the box and go for something a little different on your big day. You might end up with a dress you love even more than you would have if you'd gone the traditional route.